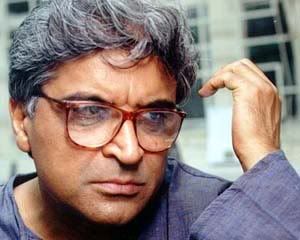 I recently attempted to read a transcript of an online chat with Javed Akhtar.
Javed sahib is a giant of the Hindi film industry; as a scriptwriter and lyricist on some of Bollywood's most influential films over nearly four decades, he has had a hand in shaping modern Indian culture. I've talked about Javed sahib at some length here before. He is a brilliant, thoughtful, erudite, literate, gifted, opinionated man. I've heard him speak passionately about language - about his own language, Urdu, and also about the effect of the importation (and imposition) of English at all levels of Indian discourse.
So it was a bit of a cognitive disconnect to find his chat transcript loaded with IM-speak - "u" for "you," "ppl" for "people," "gr8" for "great," and so on. If anything proves that orthography is not necessarily correlated with literacy, it's Javed sahib's use of IM-speak.
I am not experienced in IM-speak; it is faster for me to type longhand using standard spelling, punctuation, and capitalization than it is to work out the appropriate abbreviations for what I want to say. So Javed sahib's facility with the shortcuts suggests that he uses them very frequently, so that they are under his fingers to the extent that it is efficient for him to use them.
I understand that communication via SMS - text messaging - is even more widespread in India than in my own United States, where it is still largely a medium of teenage communication. In India, where the cellular and internet infrastructure is in far better shape than the conventional telephone infrastructure, SMS is prevalent among a much broader slice of society. It is conceivable that even the exalted literati really do use it every day; hence Javed sahib's fluency in IM-speak.
I lack that fluency, and therefore found the transcript exceedingly hard to read. Judge for yourself: Over at BollyWHAT? you can find a post containing the original transcript, and another post with my heavily edited version of it, in which I have rearranged the text so that answers immediately follow the corresponding questions - and translated the IM-speak into standard orthography.